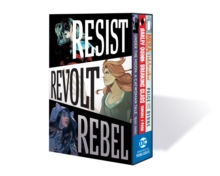 DC Graphic Novels for Young Adults Box Set 1 Resist. Revolt. Rebel
1779507054 / 9781779507051
Mera: Tidebreaker explores duty, love, heroism, and freedom through the eyes of undersea royalty.
Under the Moon: A Catwoman Tale explores the storey of a teenage Catwoman, as she struggles to find her own identity while living on the streens of Gotham.
Harley Quinn: Breaking Glass is a tale about choicess, consequences, and how a 15-year-old Harleen Quinzel defines her world for herself. This new format comes in a slipcase, and is the perfect gift for any teen reader!
BIC:
* Variable discounts between 0% and 15% are applied to items where BBfS cannot determine exact discounts from suppliers.