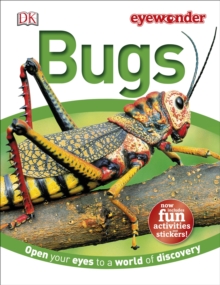 1409344274 / 9781409344278
26 cm 56 pages : illustrations
Open your eyes to a world of discovery and find out all about bugs and other creepy crawlies Eyewonder Bugs explores all types of bugs from an insect that looks like a twig to a butterfly that tastes with its feet!
From sand devils burrowing in the desert to busy bees, these creepy crawlies come in all shapes and sizes and can do amazing things.
Meet poisonous spiders, scary scorpions and many more amazing bugs.
Packed with fascinating facts and bright images, in the renowned Eyewonder format, younger readers will easily understand all the different types of bugs and what they can do.
Ideal for school project support Bugs engages kids with interactive activities from True or False games to What's this? quizzes, and includes 100 bright stickers to play with!
BIC:
5AH Interest age: from c 7 years, YNNR Wildlife (Children's / Teenage)