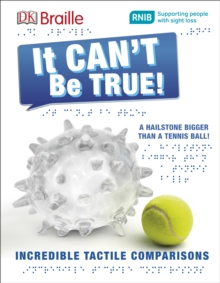 It can't be true : a hailstone bigger than a tennis ball!
0241228409 / 9780241228401
Usually dispatched within 4 weeks
29 cm 73 pages : illustrations (colour)
At head of cover title: RNIB.
Packed with astonishing facts and astounding world records,DK Braille It Can't Be True is a fascinating book designed especially for visually impaired readers.
In over 70 pages you will find the world's weirdest wonders and unbelievable facts described in both braille and large print, paired with tactile images that demonstrate just how unusual the objects and events being described really are.
Through the use of detailed embossing, you can feel the world's largest hailstone (three times larger than a tennis ball!) and a bird so small it can sit on the end of your thumb.
Fully endorsed by the Royal National Institute of Blind People (RNIB), DK Braille It Can't Be True will keep you entertained and amazed for hours.
BIC:
5AJ Interest age: from c 8 years, YRG Reference works (Children's / Teenage)