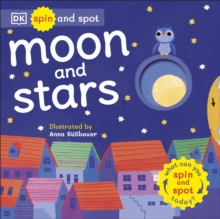 Moon and stars
0241491630 / 9780241491638
21 cm 14 pages : chiefly illustrations (colour)
Board book Turn-the-wheel book.
An interactive book for babies, that gently introduces them to the idea of night-time.
Turn the pages and spin the wheel to discover what happens when the sun goes down.
Watch the Moon as it disappears over the rooftops, watch the night animals explore the dark, and look up at the twinkling stars in the night sky.
With beautiful and colourful illustrations, little ones will love learning about night-time, and the things that come alive as the Sun goes down. This board book has sturdy pages for little ones to turn, and an interactive picture wheel for their tiny hands to spin.
Where is the owl? Can you spin the wheel and see if you can spot him? This interactive element promotes the development of fine motor skills in toddlers and reinforces their understanding of what they are learning.
The simple yet charming text is fun to read aloud and share with toddlers, and the colourful illustrations help introduce them to the difference between night and day.
Spin and Spot: Moon and Stars is ideal for adults and children to share together, whether that be at bedtime or preschool.
What are you going to spin and spot today?
BIC: