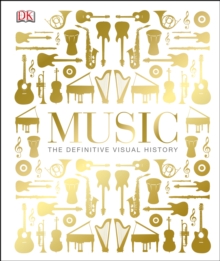 Music : the definitive visual history
1409320790 / 9781409320791
31 cm 400 pages : illustrations (black and white, and colour)
Classical music or rock music, everyone has their favourite musical style, but why did jazz go Latin, or blues influence rock?
Find out in the story of music from prehistory to the present day. Music is a visual history of music - the most unifying art form in the world.
Every musical revolution from bone flutes to electronica and from jazz to hip-hop is charted in this visually stunning music history.
Key musical innovators including Mozart, Louise Armstrong, and Elvis are profiled with biographies that detail their lives and works.
Every development from baroque to rock and roll is covered.
Music also includes illustrated histories of the most popular instruments, from the guitar to the piano, and listening suggestions for each musical genre.
Whether you are young or old, into pop music or opera, Music will hit the right note with you.
BIC:
Title Unavailable: Out of Print
Other Formats