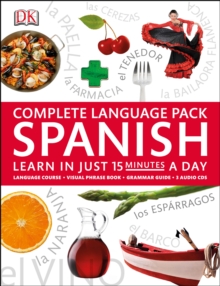 Spanish : complete language pack
1409385221 / 9781409385226
Usually dispatched within 2 weeks
22 cm 160, 192, 64 p. : col. ill.
In box 26 x 20 cm Compact discs. Contents: 15-minute Spanish / Ana Bremâon -- Spanish visual phrase book -- Spanish easy grammar / Silvia Gonzalo-Zahorodny.
"Want to learn Spanish fast? This practical, user-friendly, and uniquely visual Spanish language course is perfect for busy people.
Teach yourself Spanish in just 12 weeks with DK's Complete Language Pack, which includes an easy-to-follow course, a pocket-sized Spanish phrase book, and a guide to the essentials of Spanish grammar. The course book in this comprehensive starter pack is DK's 15 Minute Spanish, which has 12 chapters spanning a range of practical themes, including socializing, business, food and drink, travel, and shopping.
Each chapter is broken down into 15-minute lessons, which combine vocabulary and grammar essentials with attractive full-colour photographs.
Review modules help you track your progress and identify where you need further practice. The Complete Language Pack also contains a visual Spanish phrase book - including the essential words and phrases you need to get by in Spanish - and a guide to the basics of Spanish grammar.
The free audio apps enable you to hear Spanish words and phrases spoken by native speakers, and - in the course book app - record yourself, compare with native speakers, and rerecord as desired.
Use the apps alongside the Language Pack's easy-to-use pronunciation guides to perfect your pronunciation and practise Spanish conversation in real-life situations.
Whether you're starting from scratch or want to brush up your Spanish, the Complete Language Pack makes Spanish language learning quick, easy, and fun. "
BIC:
* Variable discounts between 0% and 15% are applied to items where BBfS cannot determine exact discounts from suppliers.
Other Formats