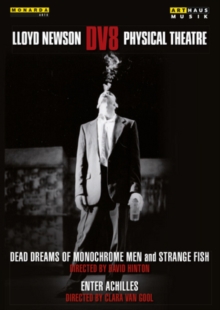 DV8 Physical Theatre: Lloyd Newson
Three productions by the DV8 Physical Theatre starring dancer Lloyd Newson.
Performed in 1988, 'Dead Dreams of Monochrome Men' sees Newson, along with Nigel Charnock, Russell Maliphant and Douglas Wright, put moves to the music of Sally Herbert. 'Strange Fish', performed in 1992 to the music of Jocelyn Pook and Adrian Johnston, looks at the need that every human has: to love and be loved.
Finally, 'Enter Achilles', which toured in 1995, sees Newson direct performers Gabriel Castillo, Jordi Cortez Molina and David Emanuel in a work accompanied by the music of Adrian Johnston.