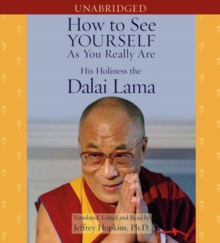 How To See Yourself As You Really Are (ed)
0743564642 / 9780743564649
Usually dispatched within 2 weeks
131 x 148 mm, 175 grams 5 pages
How to See Yourself As You Really Are is based on a fundamental Buddhist notion that love and insight work cooperatively to bring about enlightenment, like the two wings of a bird.
The overarching theme is that self-knowledge is the key to personal development and positive relationships.
Here the Dalai Lama addresses Buddhist perspectives on how we hurt ourselves through misguided, exaggerated notions of self, others, events and the physical world. The first section introduces step-by-step exercises that help us to develop an ability to see the disparity between how we appear to ourselves and how we actually are, and thereby to learn how to act in the world from a more realistic framework.
Once we have recognized our false assumption and ideas, the second section shows us how to undermine them.
A variety of exercises are presented that aid in breaking down the illusions we have superimposed over what actually exists.
These are illustrated by the Dalai Lama's own personal experiences.
The third section turns to a discussion of how things actually do exist.Here we are drawn to notice how everything depends on thought--how thought itself predetermines what we perceive--and to get beyond our misconceptions. The audiobook's final section describes how to harness the power of meditative concentration with insight so that problems can be addressed at their shaky foundation.
Putting insight in the service of love and love in the service of insight, How to See Yourself As You Really Are finishes with an overview of the stages for achieving altruistic enlightenment.
BIC:
VSP Popular psychology, VXA Mind, Body, Spirit: thought & practice