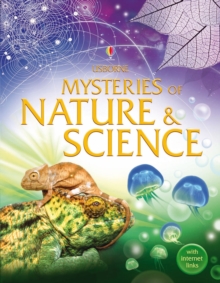 Mysteries of nature & science
0746088884 / 9780746088883
Cover title: Usborne mysteries of nature & science.
This title reveals the fascinating scientific and natural phenomena that can be found in the world around us.
It shows why snow can sometimes turn red, why ice floats on water, how a wheel spider outwits its predators and whether time travel will ever be possible as well as many other amazing occurrences from the scientific and natural worlds.
It is illustrated with stunning full-colour photographs, illustrations and diagrams.
It is presented with internet links to recommended websites with more amazing facts, games and information.
BIC:
YNX Mysteries, the supernatural, monsters & mythological beings (Children's/Teenage)