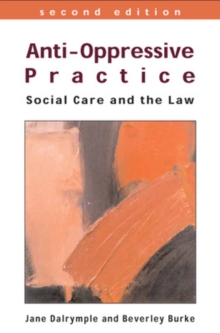 Anti-oppressive practice : social care and the law (2nd ed)
0335218016 / 9780335218011
Praise for the new edition: "This new edition proves to be a substantial updating of the 1995 edition.
The coverage is analytical and clearly related to anti-oppressive practice.
It is important to persuade students of the necessity of action to put their values into practice - this book is a real boon and should be required reading up and down the country." - Mark Baldwin, University of Bath.
In the new edition of this bestselling text, the authors challenge the notion that anti-oppressive practice has lost its potency or become commodified into a professional response to inequalities.
Retaining a commitment to the principles and values of anti-oppressive practice, discussion about contemporary practice is guided by a critical understanding of personal values and the context of practice.
Some key questions are explored including: How is anti-oppressive practice relevant in contemporary practice?
How can the law be used as an empowering tool? and, How can the law be used to develop and inform anti-oppressive practice?The second edition is substantially revised and updated to take account of policy and legislative changes, with a new chapter addressing critical practice in social work as well as additional activities, chapter summaries and further reading at the end of each chapter.
The authors draw on their own experiences and those of practitioners, service users and carers to understand issues of power and oppression, demonstrating how the law can be used to inform the development of critical anti-oppressive practice.
The book therefore points the way to practice that is both empowering to service users and ultimately liberating for practitioners. "Anti-Oppressive Practice" is an essential text for students, practitioners, lecturers, service users and carers.
BIC: