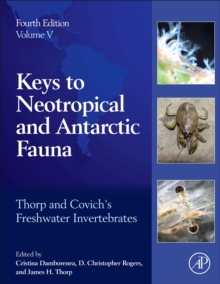 Thorp and Covich's Freshwater Invertebrates : Volume 5: Keys to Neotropical and Antarctic Fauna (4 ed)
0128042257 / 9780128042250
Thorp and Covich's Freshwater Invertebrates, Volume 5: Keys to Neotropical and Antarctic Fauna, Fourth Edition, covers inland water invertebrates of the world.
It began with Ecology and General Biology, Volume One (Thorp and Rogers, editors, 2015) and was followed by three volumes emphasizing taxonomic keys to general invertebrates of the Nearctic (2016), neotropical hexapods (2018), and general invertebrates of the Palearctic (2019).
All volumes are designed for multiple uses and levels of expertise by professionals in universities, government agencies, private companies, and graduate and undergraduate students.
BIC: