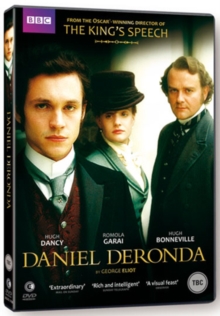 (12) Suitable for 12 years and over.
Andrew Davies pens this BAFTA-winning three-part BBC adaptation of the novel by George Eliot.
Hugh Dancy stars as Daniel Deronda, the nephew and ward of Sir Hugo Mallinger (Edward Fox), who falls in love with society beauty Gwendolen Harleth (Romola Garai).
Although Daniel's feelings are reciprocated, fate conspires to keep the young lovers apart as the financially-strapped Gwendolen is forced into a stifling marriage with wealthy aristocrat Henleigh Grandcourt (Hugh Bonneville).
Meanwhile, Daniel finds comfort in his friendship with Jewish singer Mirah Lapidoth (Jodhi May) - but, haunted by doubts about his own identity, he embarks on a quest for self-discovery that brings dramatic and unforeseen consequences.