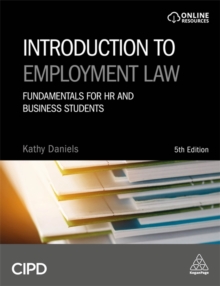 Introduction to employment law : fundamentals for HR and business students (Fifth edition)
0749484144 / 9780749484149
Professional & Vocational Learn More
Tertiary Education (US: College)
Includes Internet access At foot of title: CIPD Previous edition: London: Chartered Institute of Personnel and Development, 2016.
Understand the theory and practical application of UK employment law without the need for any prior legal knowledge.
Written specifically for HR and Business students, Introduction to Employment Law is a clear and accessible guide to employment law and how it applies in practice.
Covering everything from employment tribunals and discrimination to redundancy and termination of employment, this textbook doesn't assume any prior knowledge of the UK legal system and equips students with all the knowledge and skills that they need to take forward into the workplace. Fully revised with all the latest cases and legal developments, this new edition includes coverage of hot topics such as defining employment status in the gig economy, gender pay reporting, the General Data Protection Regulation (GDPR) and the legal implications to be considered with Britain's withdrawal from the European Union.
Packed with pedagogical features to consolidate learning including chapter objectives, tasks, 'explore further' sections, key learning points and examples to work through, as well as a dedicated study skills chapter, Introduction to Employment Law is essential reading for all students studying the CIPD Level 5 Intermediate module in employment law as well as being a useful resource for those studying at level 3 and an accessible introduction for level 7 and those on undergraduate and postgraduate courses needing a thorough grounding in employment law.
Online resources include lecture slides, case studies, multiple choice questions, annotated weblinks and an instructor's manual.
BIC:
KJMV2 Personnel & human resources management, LNH Employment & labour law