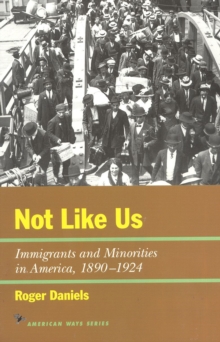 Not Like Us : Immigrants and Minorities in America, 1890-1924
1566631661 / 9781566631662
136 x 214 mm, 236 grams 192 pages
Professional & Vocational Learn More
Postgraduate, Research & Scholarly
Undergraduate
In the thirty-five years after 1890, more than 20 million immigrants came to the United States-a greater number than in any comparable period, before or since.
They were often greeted in hostile fashion, a reflection of American nativism that by the 1890s was already well developed.
In this analytical narrative, Roger Daniels examines the condition of immigrants, Native Americans, and African Americans during a period of supposed progress for American minorities.
He shows that they experienced as much repression as advance.
Not Like Us opens by considering the Chinese Exclusion Act of 1882, the hinge on which U.S. immigration policy turned and a symbol of the unfriendly climate toward minorities that would prevail for decades.
Mr. Daniels continues the story through the 1890s, the so-called Progressive Era, the opportunities and conflicts arising out of World War I, and the "tribal twenties," when nativism and xenophobia dominated American society.
An epilogue points out gains and losses since the 1924 National Origins Act.
Throughout Mr. Daniels's focus is on legislation, judicial decisions, mob violence, and the responses of minority groups.
The record is scarcely one of unalloyed progress.
BIC:
1KBB USA, 3JH c 1800 to c 1900, 3JJ 20th century, HBJK History of the Americas, HBLL Modern history to 20th century: c 1700 to c 1900, HBLW 20th century history: c 1900 to c 2000, JFFJ Social discrimination & inequality, JFFN Migration, immigration & emigration, JFSL Ethnic studies