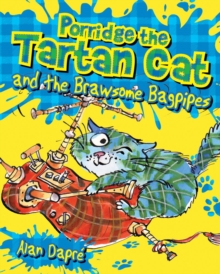 Porridge the Tartan Cat and the brawsome bagpipes
1782503552 / 9781782503552
20 cm 146 pages : illustrations (black and white)
When Porridge was a wee kitten he toppled into a tin of tartan paint -- which is easy to do and not so easy to say. Now he lives by Loch Loch with the quirky McFun family: Gadget Grandad, Groovy Gran, Dino Dad, Mini Mum and the twins, Roaring Ross and Invisible Isla.
Everyone has a super secret -- or two-- and Porridge is always there to lend a helping paw when things go awry.
If there's a fishy biscuit in it for him... And things do often go awry in the McFun family. It's a good job Porridge has nine lives!--------------Porridge the Tartan Cat (it's a long story involving a tin of tartan paint!) has discovered Gadget Grandad is not your average snoringly boring grandad after all!
He's a super-duper secret spy -- and he needs help from Porridge (the cat, not the gloopy breakfast) and the twins Isla and Ross to defeat his arch enemy Fergus McFungus. McFungus has stolen the secret secret recipe for disaster.
Can Porridge and the twins help their shark-surfing, shed-racing, space travelling grandad stop him and save the world?
Maybe with the help of some brawsome bagpipes... --------------------In this zany new series for young readers, Porridge purrfectly CAT-a-logs the family's hilarious adventures from a cat's-eye perspective.
With wacky twists, silly word play and meow-nificent illustrations in every chapter, readers won't even want to paws for breath.
BIC: