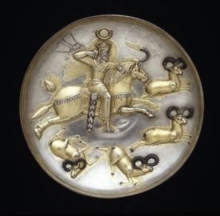 Memory and Identity in Sasanian Persia : Sacred History and the Historiography of Ancient Iran
1780762488 / 9781780762487
Here, Touraj Daryaee shows how the idea of Iran - its attributes, mores, values, boundaries and traditions - was brought to the Zoroastrian, Jewish and Christian populations of the Sasanian Empire and accepted and internalized by these religious communities.
By tracing the political accommodations reached in the the Sasanian court back to the Zoroastrian texts of the Avesta, Daryaee demonstrates why scholars, scribes and the state continued to emulate and propagate the memory of the Peshdadian, Kayanian and Sasanian empires - even into the Islamic period.
Memory and Identity in Sasanian Persia will be an essential work for scholars of Iran, Zoroastrianism and those seeking to understand the history of Middle-Eastern antiquity.
BIC:
1FBN Iran, 3D BCE to c 500 CE, HBAH Historiography, HBJF1 Middle Eastern history, HBLA Ancient history: to c 500 CE