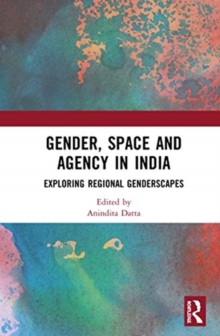 Gender, space and agency in India : exploring regional genderscapes
0367820803 / 9780367820800
24 cm 166 pages : illustrations (black and white)
This volume explores the links between gender, space and agency in India.
It offers fresh perspectives and frameworks within which these links can be analyzed across diverse geographical contexts in India.
The chapters in this volume are based on field studies which showcase how agency is gendered.
The volume examines how gender and agency are fashioned by a multitude of everyday contexts, socio-economic processes, policy interventions and geographic phenomenon and manifest in diffusion of education, decentralization of politics, rising social inequalities, poverty, green revolution, mechanization of agriculture and even drought. This book will be of interest to researchers, teachers and practitioners of human geography, social and cultural geography, and those interested in geographies of gender.
It will also be helpful for policy makers interested in the issues of gender and development in India.
BIC:
1F Asia, JFFJ Social discrimination & inequality, JFFK Feminism & feminist theory, JFSJ Gender studies, gender groups, JFSJ1 Gender studies: women, RGC Human geography, RGL Regional geography