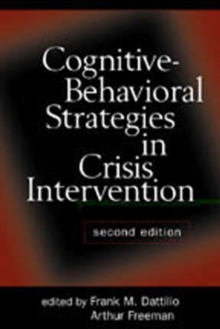 Cognitive-Behavioural Strategies in Crisis Intervention (2 Rev ed)
1572305797 / 9781572305793
Stock expected by 13/04/2020
156 x 234 mm, 816 grams 465 pages, 1 Illustrations
Professional & Vocational Learn More
Postgraduate, Research & Scholarly
Undergraduate
Now in its revised and expanded second edition, this comprehensive text brings together leading cognitive-behavioural practitioners to describe effective interventions for a broad range of crisis situations.
From panic disorder, Cluster B personality disorders, and suicidal depression, to substance abuse, rape, sexual abuse, family crises, natural disasters, medical problems, and problems of older adults, the book presents proven short-term approaches to helping patients weather the immediate crisis and build needed coping and problem-solving skills.
Throughout, revised and updated chapters incorporate new research and innovative therapeutic methods.
New chapters cover such timely topics as neurological problems and head injury, youth crisis in the schools, divorce-related crises, critical incident stress debriefing, and secondary trauma experienced by the therapist.
Chapters have been uniformly structured to provide readers with a solid review of the literature in each area, as well as case vignettes illustrating the use of specific techniques.
Also included is a discussion of ethical and legal issues in crisis intervention.
BIC:
JMAL Behavioural theory (Behaviourism), JMAQ Cognitivism, cognitive theory, MMJ Clinical psychology