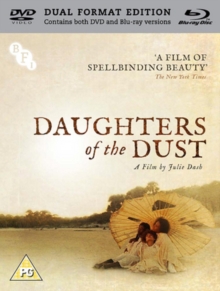 Blu-ray (Blu-ray / with DVD - Double Play)
Historical drama directed by Julie Dash. The Gullah people are descendants of West African slaves brought to America.
They inhabit the coastal plains and sea islands of Georgia and the Carolinas and preserve their own unique heritage, a culture and a community that many people do not realise even exists.
In 1902, in preparation for members of the community departing for the mainland states in the north, the Gullah people remember their ancestral roots and look forward to the future of their people.
Interviews: Julie Dash; Arthur Jafa
Commentary: Julie Dash and Michelle Materre
Other Documentary: Q&A with Julie Dash and Cheryl Lynn Bruce