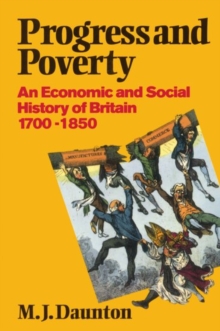 Progress and Poverty : An Economic and Social History of Britain 1700-1850
0198222815 / 9780198222811
Usually dispatched within 4 weeks
156 x 234 mm, 955 grams 638 pages, line figures, maps, tables
This is a major college text. It will become prescribed reading for anyone studying British history in the 18th and 19th centuries.
The book examines the massive structural change, the creation of national markets, and the economic growth which characterized the movement from agriculture to industry.
In 1700 Britain was a rural country. By 1850, the year before the Great Exhibition, it was 'the workshop of the world'.
The debate on the relationship between povertyand progress is at the core of this clear and wide-ranging analysis of the world's first industrialized nation.
BIC:
1DBK United Kingdom, Great Britain, 3JF c 1700 to c 1800, 3JH c 1800 to c 1900, HBJD1 British & Irish history, HBLL Modern history to 20th century: c 1700 to c 1900, HBTB Social & cultural history, KCZ Economic history, YQH Educational: History