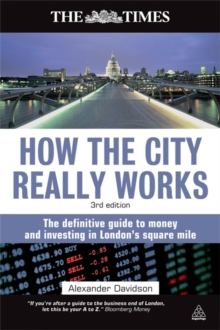 How the city really works : the definitive guide to money and investing in London's square mile (3rd ed)
0749459689 / 9780749459680
At head of title: The Times. Previous ed.: 2008.
How the City Really Works clearly explains the workings of the City, as well as its relationships with other international financial centres. The book features sections on the dangers of fraud and money laundering, credit derivatives, the latest governance issues, and the current state of the pensions market.
It provides further coverage of the key roles within the City, from stockbrokers and foreign exchange dealers to accountants and Lloyd's underwriters, and demonstrates how they relate to each other. Packed with information and insights on the key products - from bonds to new share offerings and derivatives - How the City Really Works gives you a crash course in: City markets; hedge funds and traders; City regulation; the City's relationships with the United States and Europe. This informative and entertaining guide to London's financial markets offers practical advice on how you can put the information it contains to profitable use when making your investment decisions.
BIC:
1DBKESL London, Greater London, KFFK Banking, KFFM Investment & securities