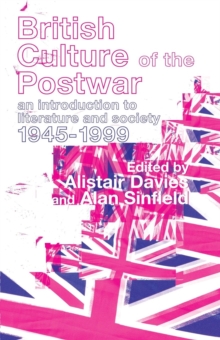 British culture of the postwar : an introduction to literature and society, 1945-1999
0415128110 / 9780415128117
Usually dispatched within 4 weeks
research & professional Learn More
academic/professional/technical
The second half of the twentieth century was a period which saw huge political, social, technological and economic changes.
These upheavals are mediated in often controversial innovations in literature, art and cinema.
From Angus Wilson to Pat Barker and Salman Rushdie, British Culture of the Post-War is an ideal starting point for those studying cultural developments in Britain of revent years.
Chapters on individual people and art forms give a clear and concise overview of the progression of different genres.
They also discuss the wider issues of Britain's relationships with America and Europe, and the idea of Britishness.
Each section is introduced with a short discussion of the major historical events of the period.
Read as a whole, British Culture of the Postwar will give students a comprehensive introduction to this turbulent and exciting period, and a greater understanding of the cultural production arising from it.
Nanette Aldred, Andrew Crozier, Alistair Davies, Margaretta Jolly, Siobhan Kilfeather, Drew Milne, Minoli Salgdo, Alan Sinfield
BIC:
1DBK United Kingdom, Great Britain, 2AB English, 3JJP c 1945 to c 2000 (Post-war period), DSBH Literary studies: from c 1900 -, HBJD1 British & Irish history, HBLW3 Postwar 20th century history, from c 1945 to c 2000, JFC Cultural studies