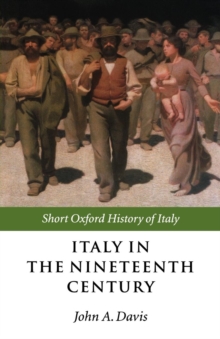 Italy in the nineteenth century, 1796-1900
0198731272 / 9780198731276
Usually dispatched within 4 weeks
The Short Oxford History of Italy series, in seven volumes, will offer a complete History of Italy from the early middle ages to the present and, in each period, will present the most recent historical perspectives on Italian history.
This means setting Italian history in the broader context of European history as a whole.
It also means questioning accepted interpretations of Italian history in each of these periods and, in particular, the idea that Italy's history has been significantly different from that of the rest of Europe.
Each volume will emphasise how developments in Italy in each period are best understood as variants on broader European patterns of political, economic social and cultural change.
This volume covers the period from the French Revolution to the end of the Nineteenth Century.
Consisting of nine essays written by leading British and American historians, the volume shows how Italy's unexpected political unification and independence were inseparable from the impact of the broader processes of modernisation that were changing the face of Europe and the fabric of European society. The social and political tensions that fuelled the struggles for independence were rooted in Italy's difficult modernisation, which continued thereafter to threaten the consolidation of the new Italian state.
But Italy's difficult modernisation did not preclude real change, and although Italy entered the twentieth century as a highly imperfect democracy it was not noticeably more imperfect, illiberal or divided than its nineteenth century European counter-parts, nor did the new challenges posed by the rise of mass society make fascism an inevitable outcome of the Risorgimento.
Italy in the Nineteenth Century provides both the general and specialist reader with a critical but concise introduction to the most recent historical debates and perspectives.
BIC:
1DST Italy, HBJD European history, HBLL Modern history to 20th century: c 1700 to c 1900, JFC Cultural studies