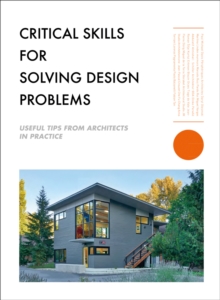 Critical skills for design problem-solving : thinking like an architect
1864708557 / 9781864708554
24 cm 248 pages : illustrations
Professional & Vocational Learn More
Further/Higher Education
Architectural plans generally are beset by problems as the project develops.
A prospective architect needs to learn how to critically assess and problem-solve any design issues. And to every problem there is a solution, using the 'Fifteen Principles' for solving design problems efficiently. With nearly 20 projects from well-known architects, this book provides an unmissable opportunity to learn from the experts.
Famous architects walk through the design process, with full-colour photographs, drawings and sketches of ideas.
Each architect examines design problems encountered during the project, and offers examples of critical thinking that resulted in practical solutions.
This book will form a valuable reference for architects and students.
BIC: