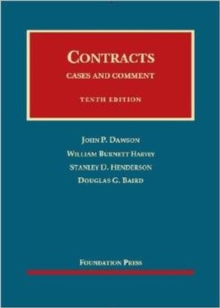 Contracts (10 Revised edition)
1609302117 / 9781609302115
Stock expected by 05/03/2020
Professional & Vocational Learn More
Postgraduate, Research & Scholarly
Undergraduate
With the appearance of the Tenth Edition, this book enters its sixth decade. Throughout its long history, this casebook has relied on classic cases to capture the fundamental principles of contract law, and this edition reinforces that tradition. This new edition preserves and builds upon the book's distinctive character, especially its use of canonical cases, its sensitivity to the history and evolution of doctrine, and its close attention to the legal consequences of breach.
The newly added cases show how the basic principles of contract law continue to apply across a wide range of transactions.
As before, this edition eschews any distinctive take on the law of contracts and thus allows each teacher using the book a broad range of choice on what to bring in to channel or expand classroom discussion. The most visible alteration in this edition is an expanded treatment of the important problem of contract interpretation. A significant amount of new material has been added, but the length of the book remains about the same.
This edition both covers recent developments and maintains a manageable length. The Teacher's Manual has also been extensively revised.
BIC: