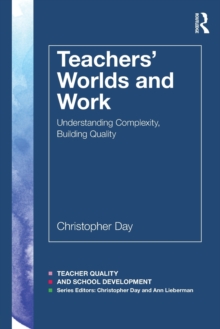 Teachers' worlds and work : understanding complexity, building quality
1138048607 / 9781138048607
206 pages : illustrations (black and white).
Professional & Vocational Learn More
Postgraduate, Research & Scholarly
Understanding what influences the quality of teachers' work across a career is key to building and sustaining their on-going commitment and effectiveness.
Teachers' Worlds and Work provides a new, research-informed consideration of key elements which independently and together influence teachers' work and lives: policy and workplace conditions, teacher professionalism, identity, emotions, commitment and resilience, types of professional learning and development, and the importance of the contribution to these made by high-quality leadership.
In bringing these elements together, the book provides new, detailed and holistic understandings of their influence and suggests ways of building and sustaining teachers' abilities and willingness to teach to their best and well over their careers.
This groundbreaking text will be essential reading for teacher educators, teachers, head teachers and academics.
BIC:
JNF Educational strategies & policy, JNK Organization & management of education, JNT Teaching skills & techniques