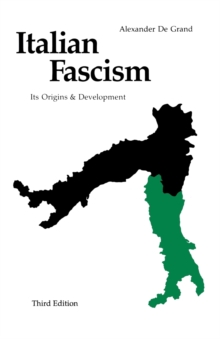 Italian Fascism : Its Origins and Development, Third Edition (Third)
0803266227 / 9780803266223
Stock expected by 29/04/2021
140 x 216 mm, 227 grams 191 pages, Map
On October 29, 1922, when Benito Mussolini completed the March on Rome and was appointed prime minister of Italy, the Fascist regime began in triumph.
It ended some twenty-two years later with the execution of Mussolini and the collapse of the German-inspired Italian Social Republic.
In this third edition of Italian Fascism Alexander De Grand maintains his disagreement with recent interpretations of the movement and regime as "revolutionary" and "leftist." While not ignoring the importance of ideology, he sees Fascism in Italy as a bourgeois response to the challenge of proletarian revolution and an approach to the problem of conservative control in an era of mass politics.
For the third edition, De Grand has substantially revised the discussion of culture and ideology, the conclusion, and the bibliography.
Incorporating the most recent interpretations and research, this introduction to Italian Fascism reinterprets an important development in modern history.
BIC:
1DST Italy, 3JJ 20th century, HBJD European history, HBLW 20th century history: c 1900 to c 2000, JPA Political science & theory, JPFQ Fascism & Nazism