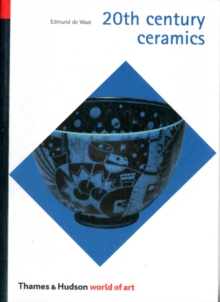 0500203717 / 9780500203712
Stock expected by 26/11/2019
21 cm 224 p. : ill. (some col.)
general Learn More
academic/professional/technical
Ceramics have kept pace with - or even led - new movements in art, from Art Nouveau, Art Deco, the Bauhaus and Futurism, through Abstract Expressionism, Pop and Performance, to Land Art and Installation Art.
From orientalism and colour theory to modernism, postmodernism and the profuse diversity of approaches that has characterized the end of the 20th century, this book covers Europe, Scandinavia, Russia, the USA and Japan.
The work of exceptional individuals is appraised - including Taxile Doat, Clarice Cliff, Susie Cooper, Bernard Leach, Isamu Noguchi, Hans Coper, Lucie Rie, Joan Miro, Pablo Picasso, Peter Voulkos and Adrian Saxe.
The use of ceramics in other disciplines is given close attention: sculptors such as Antony Gormley and Tony Cragg, and even architects, including Frank Gehry, have made ceramics central to their practice.
BIC:
3JJ 20th century, ACX History of art & design styles: from c 1900 -, AFPC Ceramics: artworks