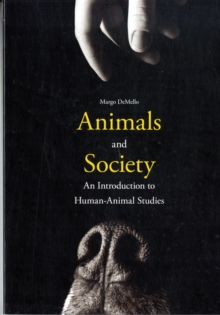 Animals and society : an introduction to human-animal studies
0231152957 / 9780231152952
26 cm xiv, 470 p. : ill., ports.
Considering that much of human society is structured through its interaction with non-human animals, and since human society relies heavily on the exploitation of animals to serve human needs, human-animal studies has become a rapidly expanding field of research, featuring a number of distinct positions, perspectives, and theories that require nuanced explanation and contextualization. The first book to provide a full overview of human-animal studies, this volume focuses on the conceptual construction of animals in American culture and the way in which it reinforces and perpetuates hierarchical human relationships rooted in racism, sexism, and class privilege.
Margo DeMello considers interactions between humans and animals within the family, the law, the religious and political system, and other major social institutions, and she unpacks the different identities humans fashion for themselves and for others through animals. Essays also cover speciesism and evolutionary continuities; the role and preservation of animals in the wild; the debate over zoos and the use of animals in sports; domestication; agricultural practices such as factory farming; vivisection; animal cruelty; animal activism; the representation of animals in literature and film; and animal ethics.
Sidebars highlight contemporary controversies and issues, with recommendations for additional reading, educational films, and related websites.
DeMello concludes with an analysis of major philosophical positions on human social policy and the future of human-animal relations.
BIC: