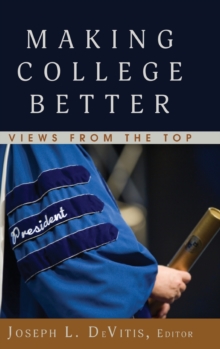 Making College Better : Views from the Top (New ed)
1433134802 / 9781433134807
150 x 225 mm, 460 grams 234 pages, 4 Illustrations, unspecified
Today's colleges and universities are facing mounting criticism from both internal and external interest groups and constituencies.
While strident calls for reform accelerate, resources for higher education have weakened.
Thus, demands to improve college education abound amidst hard times.
This timely book, Making College Better: Views from the Top, offers more rational and practical responses to that public outcry by allowing college presidents and chancellors from a wide variety of postsecondary institutions the opportunity to address, in measured ways, many complex issues and how they might be untangled.
Moreover, these academic leaders provide possible remedies to make college better through more strategic policies and practices. Making College Better will appeal to all those interested in the future of higher education, including students, college administrators and other higher education personnel, parents, legislators and other officials, and public and private sector leaders.
It is especially useful for courses in the organization and administration of higher education, the college presidency, contemporary issues in higher education, foundations of higher education, higher education and society, and college student development.
BIC: