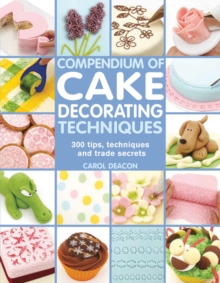 Compendium of cake decorating techniques : 300 tips, techniques and trade secrets
1844489361 / 9781844489367
25 cm 160 pages : illustrations (colour)
Tapping into the hottest trend in the cookery-as-craft market right now, this book is crammed with information on the art and craft of using fondant in cake decorating.
Fondant is the most popular method in decorating trends because of its smooth surface, vivid colours, and chic finish.
You can roll it, cut it out, mold it, and colour it. And author Carol Deacon shows you how. Decorated cupcakes are a favourite with adults and children, and this book is for you if you want to make vampire cakes for Halloween, or a cupcake tower adorned with cookie-cutter daisies, or give as gifts or favours adorable gum-paste animals or delicate ribbon-embellished porcelain-like flowers.
Crammed with over 200 professional fixes, insider tips, and money-saving secrets, content is arranged by topic to enable any crafter to achieve a professional look to their cupcakes, cake pops, or celebration cakes.
BIC: