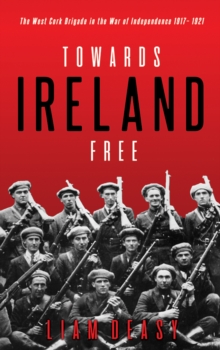 Towards Ireland free : the West Cork Brigade in the War of Independence 1917-1921
1781177600 / 9781781177600
General (US: Trade) Learn More
Professional & Vocational
Reprint. Originally published: 1973.
In the War of Independence, military leaders such as Michael Collins, Liam Lynch and Liam Deasy secured Irish independence from a country that had seemingly limitless resources of men, money and arms.
The British, lacked the one thing which the Irish possessed in abundance: a burning conviction in the justice of their cause.
First published in 1973, Towards Ireland Free is the story of one of these leaders.
Liam Deasy was just twenty at the time of the 1916 Easter Rising.
He enrolled in the Volunteers in Bandon in 1917 and by 1921 was in command of the West Cork Brigade.
In this account of the War of Independence in West Cork, he vividly recreates the tense and hope-filled atmosphere of those years and provides a rich gallery of portraits of those alongside whom he fought.
Best of all, he recounts in great detail famous episodes such as the successful attacj on the British Naval Sloop in Bantry, Howes Strand and Ballycrovane Coastguard stations, the ambushes at Kilmichael and Crossbarry and the raid on Fastnet rock.
BIC:
1DBR Ireland, 3JJF c 1914 to c 1918 (including WW1) , 3JJG c 1918 to c 1939 (Inter-war period), BGH Biography: historical, political & military, HBJD1 British & Irish history, HBLW 20th century history: c 1900 to c 2000, JWL War & defence operations