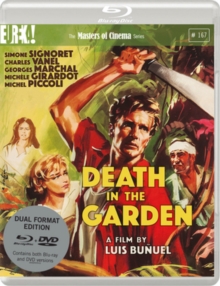 Death in the Garden - The Masters of Cinema Series
Blu-ray (Blu-ray / with DVD - Double Play)
(12) Suitable for 12 years and over.
Luis Buñuel co-writes and directs this French adventure drama starring Simone Signoret, Charles Vanel and Georges Marchal.
The film follows outlaw adventurer Shark (Marchal), prostitute Djin (Signoret) and diamond miner Castin (Vanel), who find themselves caught up in a revolt in a South American village after the government tries to seize an area of land occupied by miners.
Together, the trio, along with Castin's daughter María (Michele Girardon) and priest Father Lizardi (Michel Piccoli), flees to the safety of the jungle where they try to follow the river down to Brazil.
However, they are all ill-prepared for the desperate struggle to survive that awaits them in the unforgiving wilderness.
Interviews: Tony Rayns (writer), Michel Piccoli (actor), Victor Fuentes (film scholar)