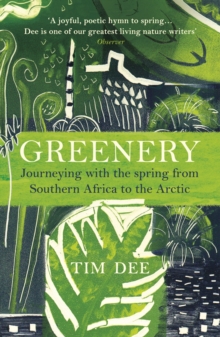 Greenery : journeys in springtime
1784707899 / 9781784707897
Reprint. Originally published: London: Jonathan Cape, 2020.
'A joyful, poetic hymn to spring... Dee is one of our greatest living nature writers' ObserverOne December, in midsummer South Africa, Tim Dee was watching swallows.
They were at home there, but the same birds would soon begin journeying north to Europe, where their arrival marks the beginning of spring. Greenery recounts how Tim Dee tries to follow the season and its migratory birds, making remarkable journeys in the Sahara, the Straits of Gibraltar, Sicily, Britain, and finally by the shores of the Arctic Ocean in northern Scandinavia.
On each adventure, he is in step with the very best days of the year - the time of song and nests and eggs, of buds and blossoms and leafing. 'A masterpiece... I can't imagine I'll ever stop thinking about it' Max Porter'Fascinating, horizon-expanding, life-enhancing' Lucy Jones, author of Losing Eden
BIC:
1D Europe, 1H Africa, WNCB Wildlife: birds & birdwatching, WSZC Walking, hiking, trekking