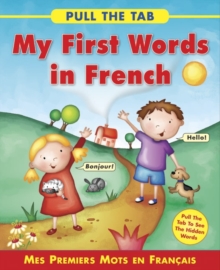 My first words in French
1843229161 / 9781843229162
Usually dispatched within 4 weeks
27 cm 10 pages : chiefly illustrations (colour)
Board book Pull-the-tab book.
Mes Premiers Mots en Francais. It's fun to learn French with this interactive book.
Simply look at Rebecca Elliott's bright illustrations, read the English labels, and then pull the tab to reveal the same words in French.
It includes subject areas such as my family (ma famille), the beach (la plage), the countryside (la campagne), food (de la nourriture) and the body (le corps).
It concludes with a glossary of terms, plus notes about accents and masculine and feminine forms.
Step into the fantastic world of French! Over 70 words and phrases are introduced in this lively introduction to the language, for children who can read independently or for grown-ups with pre-readers.
The book covers a range of subjects that will be familiar to any child, such as home and parents, pets and wildlife, food and parts of the body.
All the words are shown in English. Pull on the tab at the foot of each page and the French translation appears - so 'cheese' becomes 'du fromage' and the complete phrase 'this cheese is delicious' becomes 'ce fromage est delicieux'.
Without even realizing it, young readers will increase their knowledge while having fun pulling the tabs and looking at the pictures.
BIC:
2ADF French, YBCB Baby books, YBLA1 Early learning: first word books