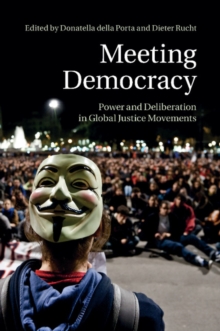 Meeting democracy : power and deliberation in global justice movements
110748426X / 9781107484269
Usually dispatched within 4 weeks
23 cm 287 pages : illustrations (black and white)
Reprint. Originally published: 2013.
The concepts of power and democracy have been extensively studied at the global, national and local levels and within institutions including states, international organizations and political parties.
However, the interplay of those concepts within social movements is given far less attention.
Studies have so far mainly focused on their protest activities rather than the internal practices of deliberation and democratic decision-making.
Meeting Democracy presents empirical research that examines in detail how power is distributed and how consensus is reached in twelve global justice movement organizations, with detailed observations of how they operate in France, Germany, Italy, Spain, Switzerland and the UK.
Written by leading political scientists and sociologists, this work contributes significantly to the wider literature on power and deliberative democracy within political science and sociology.
BIC:
JPB Comparative politics, JPHV Political structures: democracy, JPW Political activism