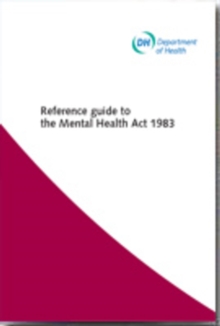 Reference Guide to the Mental Health Act 1983
0113228236 / 9780113228232
Usually dispatched within 2 weeks
This reference guide is intended as a source of reference for people who want to understand the provisions of the Mental Health Act 1983 (ISBN 9780105420835) as it is amended by the Mental Health Act 2007 (ISBN 9780105412076).
It sets out the main provisions of the Act and the associated secondary legislation as they will stand at 3 November 2008 (which is when the majority of the amendments made by the Mental Health Act 2007 take effect).
The guide is about the Act as it applies in England.
Guidance on the way the Act should be applied in practice is given in the revised Code of practice (2008, ISBN 9780113228096)
BIC:
* Variable discounts between 0% and 15% are applied to items where BBfS cannot determine exact discounts from suppliers.