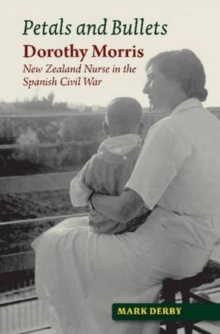 Petals & bullets : Dorothy Morris
1845196848 / 9781845196844
23 cm 192 pages : illustrations
"It was bright moonlight -- good bombing light -- and once we had to stop and put out our lights as a Fascist aeroplane flew over.
They usually come swooping down with guns firing at cars, especially ambulances.
Finally we arrived at a town among the hills about 12.30pm.
Here there is a hospital of about 100 beds in a former convent.
They expect an attack tonight". In these words New Zealand nurse Dorothy Morris described her journey to a Republican medical unit of the Spanish civil war in early 1937.
This book is based on the vivid, detailed and evocative letters she sent from Spain and other European countries.
They have been supplemented by wide-ranging research to record a life of outstanding professional dedication, resourcefulness and courage.
Dorothy Aroha Morris (1904-1988) volunteered to serve with Sir George Youngs University Ambulance Unit, and worked at an International Brigades base hospital and as head nurse to a renowned Catalan surgeon.
She then headed a Quaker-funded childrens hospital in Murcia, southern Spain.
As Francos forces advanced, she fled to France and directed Quaker relief services for tens of thousands of Spanish refugees. Nurse Morris spent the Second World War in London munitions factories, as welfare supervisor to their all-female workforces.
She then joined the newly formed UN Relief and Rehabilitation Administration, working in the Middle East and Germany with those who had been displaced and made homeless and destitute as a result of the war.
Dorothy Morriss remarkable and pioneering work in the fields of military medicine for civilian casualties, and large-scale humanitarian relief projects is told in this book for the first time.
Published in association with the Canada Blanch Centre for Contemporary Spanish Studies.
BIC:
1DSE Spain, 1MBN New Zealand, 3JJG c 1918 to c 1939 (Inter-war period), HBJD European history, HBLW 20th century history: c 1900 to c 2000, HBWP Spanish Civil War, MQC Nursing