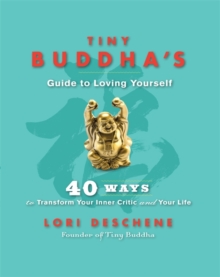 Tiny Buddha's guide to loving yourself : 40 ways to transform your inner critic and your life
1781802688 / 9781781802687
This new collection of stories from TinyBuddha.com creator Lori Deschene, shares 40 unique perspectives and insights on topics related to loving yourself.
Featuring stories from Tiny Buddha readers, the book provides an honest look at what it means to overcome critical, self-judging thoughts to create a peaceful, empowered life.
This is not a book of one-size-fits-all wisdom from experts in the field of self-love (though it includes some research-based suggestions); it's a book of vulnerable reflections and epiphanies from people, just like all of us, who are learning to love themselves, flaws and all. This book's themes are well chosen, with subjects that you will instantly relate to including: realizing you're not broken, accepting your flaws, releasing the need for approval, forgiving yourself, letting go of comparisons and learning to be authentic.
Each chapter ends with action-oriented suggestions, based on the wisdom in the stories so you'll quickly be able to implement the powerful changes towards a more positive outlook on yourself.
BIC: