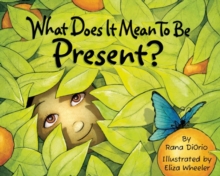 What Does It Mean to Be Present?
0984080686 / 9780984080687
Usually dispatched within 2 weeks
What does being present look like? Noticing when someone in your class needs help and taking the time to help them.
Sound like? The rain outside your window. Smell like? Briny seaweed at the beach. Taste like? A bite of orange. Feel like? Allowing the rhythm of your breath, in and out ...to make you feel peaceful. Follow a group of friends at school, at home, and at the beach as they experience just what it means to be present.
BIC:
YNX Mysteries, the supernatural, monsters & mythological beings (Children's/Teenage)