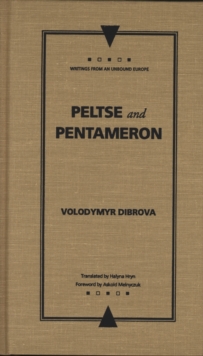 Peltse and Pentameron
081011237X / 9780810112377
Stock expected by 13/03/2020
Professional & Vocational Learn More
Postgraduate, Research & Scholarly
Undergraduate
In these two novellas, Volodymyr Dibrova - one of the best prose writers in Ukraine today - tells the story of how the Soviet system was sustained by individuals who never truly chose to support it but simply lacked the courage to oppose it.
Peltse portrays the formation of an average apparatchik.
Both funny and alarming, the novella provides an incisive psychological portrait of an individual trapped in a system he simultaneously dislikes and depends on for survival.
Pentameron tells the story of one day in the life of five colleagues working in a Soviet research institute.
Each is dissatisfied with his or her lot in life and dreams of escaping.
Yet all are trapped in and by a system that has taken away their ability to act decisively.
A piercing study, Pentameron reveals the myths, superstitions, and predicament of a large segment of Soviet Ukrainian society.
BIC: