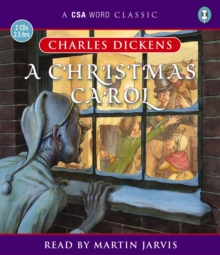 A Christmas carol (Abridged ed)
1906147612 / 9781906147617
4 3/4 in : digital, stereo
Compact discs. Read by Martin Jarvis.
Christmas would not be the same without the most famous Christmas story ever written.
A Christmas Carol in Prose, Being a Ghost Story of Christmas, commonly shortened to A Christmas Carol, is a true classic.
Its central character, Ebeneezer Scrooge, is the meanest, most miserly and most miserable person in the whole world.
However, he is surrounded by many other characters who veritably bubble over with life, warmth and the cheery spirit of Christmas.
These include Bob Cratchit, the kindest and most forgiving of men, and various 'ghosts of Christmas' who come to visit Scrooge in the night and endeavour to show him the error of his ways...but will he heed their lessons?
BIC: