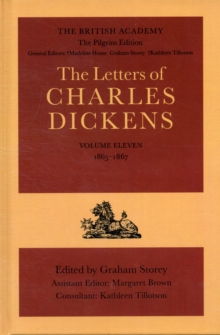 The letters of Charles DickensVol. 11: 1865-1867 (Pilgrim ed)
0198122950 / 9780198122951
Stock expected by 17/12/2019
At head of title: British Academy.
This eleventh volume presents 1158 letters, many previously unpublished or published only in part, for the years 1865 to 1867.
Dickens's main work in the period is the completion of the monthly parts of Our Mutual Friend (final part 31 October 1865, for November); unusually, it comes out in two volumes (January and November 1865) during the period of its run.
The three All the Year Round Christmas numbers, 'Doctor Marigold's Prescriptions', 'Mugby Junction', and 'No Thoroughfare' (written jointly with Wilkie Collins) are again highly successful.
He remains in high demand as chairman of a varied collection of public charitable dinners: they include charities to which he was constantly faithful, such as the Newsvendors' Benevolent Institution and the Royal General Theatrical Fund; but he also presides, for the only time, at the Annual Dinner of the Dramatic, Equestrian, and Musical Sick Fund Association (14 February 1866) and - at the instigation of Charley Dickens, a keen oarsman and Committee member - at the Dinner of the Metropolitan Rowing Club (7 May 1866), making a particularly brilliant speech. The first reference to his swollen left foot, attributed by him to frost-bite, comes in February 1865; but the most dramatic event in this volume is the railway accident at Staplehurst, Kent, on 9 June 1865, in which he is involved on returning from a short visit to France, accompanied by Ellen Ternan and her mother.
The frontispiece shows him helping the injured and dying.
He gives two provincial reading tours managed by George Dolby of Chappell & Co., in 1866 and 1867, besides frequent readings in London.
After a Farewell Dinner to him in London, with Lord Lytton in the Chair, he sails on 9 November 1867 from Liverpool to Boston, to begin his American tour of 75 readings.
BIC:
2AB English, 3JH c 1800 to c 1900, BGA Autobiography: general, DSBF Literary studies: c 1800 to c 1900 , DSK Literary studies: fiction, novelists & prose writers