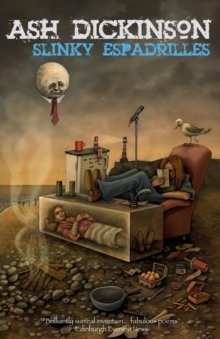 Slinky Espadrilles
190913600X / 9781909136007
Usually dispatched within 4 weeks
138 x 216 mm, 120 grams 84 pages
Rich with vivid surrealism, this is poetry that holds up a mirror to our world and makes us look long and hard, and not be afraid to laugh.
This is poetry polished in the spotlight of the stage, poetry that tears up the rule that says performance poetry does not transfer to the page.In the tradition of Adrian Mitchell and The Liverpool poets, Adrian Henri, Brian Patten and Roger McGough, this is poetry that is consistently accessible and entertaining.
Although written primarily for the live experience of performance, this is an accomplished collection that demands a place on your bookshelf.
BIC: