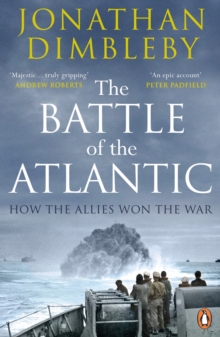 The Battle of the Atlantic : how the Allies won the war
0241972108 / 9780241972106
20 cm xxx, 530 pages, 24 unnumbered pages of plates : illustrations (black and white), maps (black and wh
Reprint. Originally published: London: Viking, 2015.
'Majestic. Truly gripping' Andrew RobertsThe Battle of the Atlantic was the single most important - and longest - campaign of the Second World War.
If Britain lost this vital supply route it lost the war.
In Jonathan Dimbleby's brilliant and dramatic new account we see how this epic struggle for maritime mastery played out, from the politicians and admirals to the men on and under the sea and their families waiting at home.
Filled with haunting and hair-raising stories of chases, ambushes, sinkings, stalkings, disasters and rescues, The Battle of the Atlantic is a monumental work of history as it was lived and fought. 'Recounts the horror and humanity of life on those perilous oceans' Independent'Dimbleby moves with skill from scene to scene, eavesdropping on the great statesmen like Churchill, the merchant seamen who carried out their orders, the U-boat commanders who tried to sink them and the families of those who lost their lives at sea' Mail on Sunday
BIC:
3JJH c 1939 to c 1945 (including WW2), HBJD European history, HBLW 20th century history: c 1900 to c 2000, HBWQ Second World War, JWLF Battles & campaigns