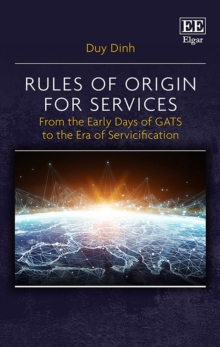 Rules of Origin for Services : From the Early Days of GATS to the Era of Servicification
1789908086 / 9781789908084
In an era where services play an increasingly vital role in servicified global value chains, this insightful book provides a comprehensive study of legal aspects of rules of origin for services and their importance in international trade. The author identifies and examines the defects in the current approach to rules of origin for services through an astute analysis of these rules in the General Agreement on Trade in Services and in preferential trade agreements.
In addition, by asserting that trade in goods and trade in services cannot be separated, the author provides a comparative analysis of rules of origin in these two fields, offering a better understanding of their boundaries and connections.
Paving the way for further development, the author concludes that certain aspects of rules of origin for goods, such as the product-based approach, may be repurposed for services. Addressing an area of rule making insufficiently explored to date, this book will prove important reading for students and scholars of international trade, economics, and governance.
The focus on new patterns of international trade will also benefit trade experts, policy makers and businesses.
BIC:
KCLT International trade, KNS Service industries, LBBM International economic & trade law
* Variable discounts between 0% and 15% are applied to items where BBfS cannot determine exact discounts from suppliers.