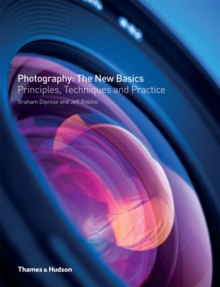 Photography : the new basics
0500289786 / 9780500289785
25 cm 408 p. : ill. (chiefly col.), ports. (some col.)
The definitive photography textbook for the digital age, The New Basics is packed with technical tips, practical exercises, contemporary images and step-by-step guidance for all aspiring photographers.
Introducing technical and creative aspects of commercial as well as fine art photography, it is the first book to assume from the outset that students are most interested in digital imaging - not just digital capture, but also postproduction and screen-based output.
It includes step-by-step guidance on the use of image-manipulation software to improve digital imagery, including colour correction and the use of Photoshop as a tool in experimental photography. Reflecting contemporary teaching techniques in further education, it compels the reader to dive in to develop practical skills from the outset.
Equal weight is given to creative as well as technical matters, with chapters on genres (portraiture, landscape etc) introducing skills needed to compose exciting photos and develop a personal style of image-making. Full of practical and money-saving tips on how to use your camera in challenging conditions, how to persuade people to pose for street photographs and how to secure sponsorship and exhibition spaces, this book is sure to supplant other basic photography books. `Clearly structured and very accessible' - Paul Winch-Furness, University of Westminster
BIC: