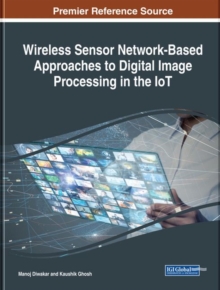 Wireless sensor network-based approaches to digital image processing in the IoT
1799832813 / 9781799832812
Stock expected by 21/06/2020
Internet of things (IoT) has a wide range of real-world applications that continues to expand.
As professionals are continually looking for ways to better optimize certain features within the IoT, digital image data has emerged as a popular topic.
Researchers have found modern techniques of transmitting image data using wireless sensor networks; however, there is a need for a compilation of these studies that explores the various applications, benefits, and challenges.
Wireless Sensor Network-Based Approaches to Digital Image Processing in the IoT is a pivotal reference source that provides vital research on the incorporation of digital image processing within the IoT field.
While highlighting topics such as energy-efficient routing, machine learning, and cryptography, this publication addresses the challenges of transmitting image data and explores further applications of sensor networks.
This book is ideally designed for researchers, computer scientists, data analysts, IT professionals, policymakers, practitioners, educators, and students seeking current research on image data transmission using wireless sensor networks.
BIC:
TJF Electronics engineering, UB Information technology: general issues, UGP Photo & image editing, UTW WAP networking & applications