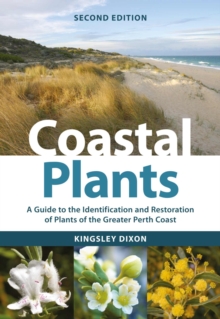 Coastal Plants : A Guide to the Identification and Restoration of Plants of the Greater Perth Coast (2 Revised edition)
1486311377 / 9781486311378
The greater Perth coast is a biodiverse and ecologically vulnerable region, with its unique native plant species threatened by clearing, invasive species, fire and climate change.
This second edition of Coastal Plants has been updated and expanded to provide a definitive guide to 128 of the most common plants of the Perth coastal region.
It includes the key species used in coastal restoration, along with important weeds.
The description of each species is accompanied by a distribution map and diagnostic photographs of the whole plant, flowers, seeds and fruits.
The book also contains introductory chapters on the biology and ecology of the coastal plants, their biogeography, and practical approaches to the restoration of coastal dune vegetation. Coastal Plants is distinctive in its focus on restoration, which makes it valuable for community groups and individuals interested or involved in coastal natural history or restoration activities. FeaturesAllows identification of coastal plants through fully updated descriptions, photos and mapsIncludes a new section on creating habitat for fauna, and updated information on the ecology and biology of coastal plantsIncludes new native and weed species, including information on weed control measuresPresents best practice for the restoration of coastal dune vegetation, as per the newly published NationalStandards for the Practice of Ecological RestorationContains hundreds of colour images alongside descriptions.
BIC: