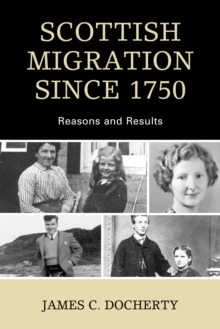 Scottish migration since 1750 : reasons and results
0761867945 / 9780761867944
Scottish Migration since 1750: Reasons and Results begins a fresh chapter in migration studies using new methods and unpublished sources to map the course of Scottish migration between 1750 and 1990.
It explains why the Scottish population grew after 1650, why most Scots continued to be female, and the underlying economic reasons for Scottish emigration after 1820.
It surveys migration to England, Canada, United States, South Africa, Australia, and New Zealand.
It explores their names, marriages, family structures, and religions, and assesses how well they really fared compared to other British migrants.
Far from being just another Celtic sob story, this book offers a model about how the histories of other migrant groups might be reappraised.
BIC:
1DBKS Scotland, 3JF c 1700 to c 1800, 3JH c 1800 to c 1900, 3JJ 20th century, HBJD1 British & Irish history, HBLL Modern history to 20th century: c 1700 to c 1900, HBLW 20th century history: c 1900 to c 2000, JFFN Migration, immigration & emigration